Visual Arts


The Middle and High School Art Program at Webberville Community Schools is wide ranging and is intended to expose students to a large variety of techniques and media not typically available to young learners. The Webberville Art Department is on a fast track for developing cutting edge opportunities for students to explore and develop skills in the area of Visual Arts. Our programs encourage individuality and creativity on all levels and focus on each students' unique vision, emphasizing collaboration and respect among peer groups.
In addition to the traditional study of drawing and painting, Webberville students have the opportunity to explore a wide range of media. We offer ceramics, including advanced techniques such as raku, metal working including lost-wax bronze and silver casting, forging, print-making including block, screen-printing and intaglio, digital design and silver photography using a traditional darkroom and chemical processes.
Students regularly participate in arts competitions, with a number of our alumni having had award-winning work displayed across Michigan, particularly in the Michigan Youth Arts Festival State Show and Governors' Traveling Show.
About Our Art Teacher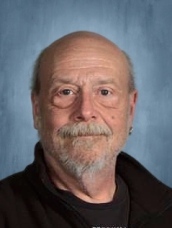 Dean Wilson graduated from Western Michigan University in 1978. He brings to his classroom a colorful background of experience as a photographer, filmmaker and free-lance artist ranging 30 years. His teaching career at Webberville began in 2009.